Did you spend a lot of time or money to find a way to remove blackheads but fail?

This Vacuum Blackhead Remover is designed to customize your skincare regimen for blackhead and grease removing, pore cleansing, exfoliating, and skin rejuvenation functions.
A MAGICAL BEAUTY INSTRUMENT ALLOWS YOU MORE CONFIDENT.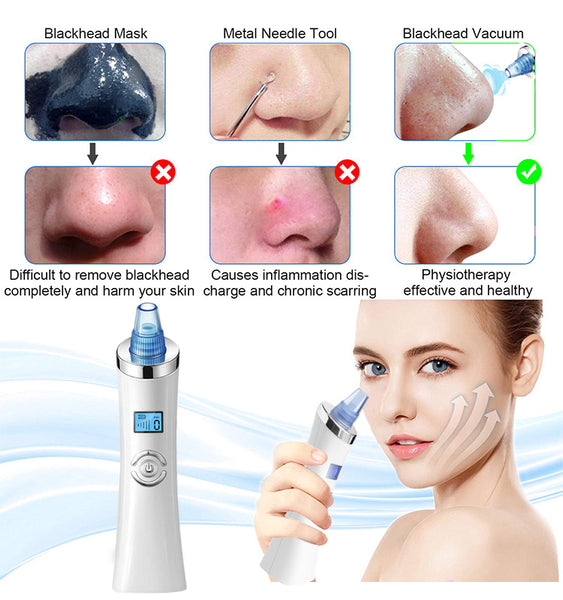 Features:
Safe: Made of reliable ABS material and uses an effective physical approach to solve skin problems without any chemicals that are toxic and harmful. It is safer and more effective than the traditional facial cleaning method. Meanwhile, a high-end package is a very wise choice for sending to your family and friends as a gift.
Rechargeable Pore Cleaner: No more worry about replacing batteries, built-in rechargeable 1000mah lithium battery can last over 150 minutes on a single charge. The LED display is used to check the suction level and battery power. It conforms to the principles of human body engineering and handhold design, easy to carry; you can enjoy your professional SPA skin care at home or traveling.
Blackhead Remover: Top quality blackhead remover vacuum with FCC, CE, ROHS certificated to ensure you feel assured during using our pore vacuum extractor. Excellent top quality leaves you without worries about it.
The newest blackhead vacuum has the capability of stronger suction and deeper cleansing of the skin.
1000 tests have been carried out and showed that this blackhead remover can effectively remove blackheads, whiteheads, dead skin, grease and makeup residues, smooth wrinkles, and tighten skin after continuously using for 2 - 5 weeks.
Key Points:
The pore vacuum is designed for a variety of skin types.
The light suction level 1 and level 2 are suitable for sensitive and dry skin.
Please use it with the small-hole beauty probe for the first time.
The medium suction, level 3 is for neutral skin.
The high suction level, level 4 is for oily skin.
The strongest suction level, level 5 is designed for mixed skin with large pores.
The blackhead vacuum uses innovative vacuum adsorption technology without hurting your skin. This blackhead cleaning tool is more convenient and effective than using a facial mask or acne needle. Made of eco-friendly material ABS, the blackhead vacuum is non-toxic, non-irritating, which can be safely used on the face.